COMMITTED TO YOUR SUCCESS SINCE 1999
Don Fitzwater – Owner, WETFLY
Years fly fishing: 30+ years
Most memorable fish caught on a fly: Maybe the first fish I ever caught on my Dad's fiberglass rod around the summer of 1986? Wild Olympic Peninsula Steelhead, 16lbs? King Salmon (guessing it was over 40lbs) or the fat 20 lbs rainbows on the Kenai? The countless 24" brown trout caught on the big Mo in MT? Or the angry tiger trout in the secret ponds in eastern WA? What about the ridiculously giant fish in CO eating size 22 flies? Oh wait, there was the first bass on my tenkara rod or the perfect drift on the Yakima with a well presented dry catching a nice 19" native rainbow? Too many fish still to catch, I can't pick my most memorable yet.
FB/Instagram/Twitter: @wetflyfish
Established in 1999 with an understanding that anglers throughout the waters needed a way to find quality product at affordable pricing. It is this value statement that still lives on today in the way product is delivered throughout the brand.
WETFLY entered the fly fishing industry with a focus on supplying high-quality flies to large retailers across the US. As other fly companies followed this example, WETFLY immediately adapted its model to begin developing rods, reels, fly boxes, waders, apparel, and lifestyle product.
As products feed into the production funnel at WETFLY , many of them do not pass the test of form, functionality, fit, and value. The ones that Do pass this inspection and on-the-water test carry the WETFLY mark. We at WETFLY fish with these products. We use them. We abuse them. We try to break them – and if we do, we improve them.
In short, WETFLY stands behind everything it develops and sells because we believe that the angler who uses our products, whether it is a fly or a rod, should be able to stand by and say the same.
Jay Stalnacker
Jay lives, works and plays in beautiful Colorado. He has a beautiful wife of 19 years, a wonderful 12-year old daughter, a chocolate lab and golden retriever. He enjoys anything outdoors, fly fishing, climbing, mtn biking, hiking and camping. He also a 3rd generation furniture maker and enjoys sculpting, designing and creating in wood, metal, plastic and stone.
Jay has worked in public safety for the past 20-years Beginning his career as a volunteer and now has the privilege of leading many courageous young men and woman who have dedicated their lives to help others. He has worked for many local, state and federal governments public safety agencies over the years and proudly shares that he concluded his federal career as a USFS smokejumper. He currently work in special operations with a focus of wild land fire management, but is cross-trained as a commissioned police officer/SWAT team member, EMT and mountain search and rescue specialist. His special operations unit responds to all kinds of natural and man caused disasters and emergencies here in Boulder County, all over Colorado and across the nation.
Jay founded the non-profit organization, Warriors on the River. WOR has partnered with the fly fishing industry leaders like WETFLY along with mental health, spiritual and leaders within public safety organizations (law, fire and medical) to provide first responders with a guided fly fishing outings. The intent is to reconnect first responders with the things in life that mean most and encourage healthy hobbies like fly fishing in support of their efforts to overcome the negative psychological and physical effects of critical incident trauma.
Jay has completed his associate's degree in emergency management and planning and a Bachelor's Degree in Organizational Leadership. He hopes to move on to completing his Masters degree with the end goal of teaching at the college level someday. He loves learning, writing, sharing and Fly-fishing! His career has offered him a lifetime of unique, crazy, scary and proud moments and he hopes to use these experiences and lessons learned to help others who have chosen public safety as a career.
Jay is the Pro Ambassador program Director, product development, warranty and repair service representative and Tenkara guru for WETFLY.
Jared Watson
ABOUT ME:
Air Force Combat Veteran – Nov 2006 to June 2011. I began fly fishing upon separation from active duty military at the request of my grandfather, a Korean War Veteran, to aid in my transition and begin coping with my PTSD and TBI issues. I've worked in the outdoor industry on and off for about 10 years, testing and developing gear and working in various retail platforms. I studied mechanical design engineering until I realized that fishing was my life and engineering wasn't on that path. I'm currently on my way to obtain my PhD in Fisheries Biology.
WHY WETFLY?
I truly believe in the WETFLY guiding principles. I want to share fly fishing with as many people as possible and in as many places as I can, especially veterans. On average 22 vets commit suicide every day, I've lost good friends, teammates and leaders to this statistic and I want to do everything possible lower this number. Fly fishing saved my life and gave me a purpose. If I can provide that to even 1 person, I will have lived up to my duty. Having the support foundation of WETFLY and my community connections I feel like there is a limitless amount of growth and do-good opportunities. I want to be in the forefront showing what it means to be an ambassador; a healthy river ambassador, a sustainable fishing practices ambassador, a WETFLY ambassador, and a veterans ambassador.
If I have the opportunity to catch fish I will never turn it down no matter the style or water type. I do prefer however freshwater river fly fishing as that brings me the most joy(trout and steelhead are my favorite targets). Ice fishing is a close second; as I enjoy early mornings drinking coffee huddled around a vise tying flies and dropping them in the water for eager fish below the ice. I mainly wade when I fish, however I am a novice boat captain and can row both whitewater and drift style boats for fishing.

DAYS ON THE WATER ANNUALLY?
I'd say my average over the last few years is around 80 days. During peak season I fish almost every day, however sometimes during crunch times at school I take a week or two off for finals and such.
Community, military, public safety or environmental group affiliation?
I volunteer with Project Healing Waters Fly Fisher (https://www.projecthealingwaters.org/ ) locally and I donate equipment especially flies that I tie. I am scheduled to work with them nationally next year for some volunteer guiding at a few events around the country. Project Healing Waters Fly Fishing, Inc.™ is dedicated to the physical and emotional rehabilitation of disabled active military service personnel and disabled veterans through fly fishing and associated activities including education and outings.I have also worked with Warriors and Quiet Waters mainly through donations but I'm scheduled to volunteer next year for at least one event. Bio: Through the experience of fly fishing in Montana, WQW is a catalyst for positive change in the lives of post-9/11 combat veterans.
LINKS:
instagram: @lostwateradventures
FB: facebook.com/AdventuresinFlyFishing
Pinterest: pinterest.com/LWAFlyFishing/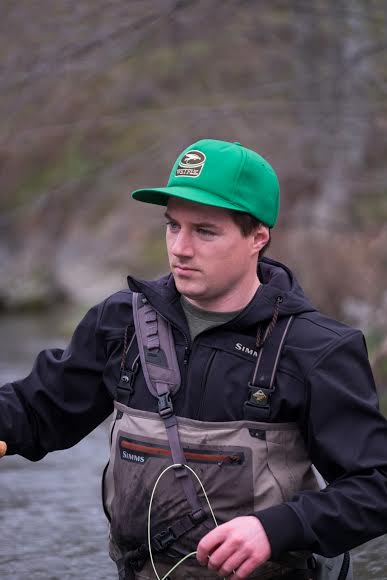 David Kirkpatrick
Instagram: @western_flywater
David C Kirkpatrick works and adventures full time in the beautiful Pacific Northwest. He lives in Southern Oregon with his wife McKenzie and German Shepherd pup Finley. Fly-fishing is his passion, though he enjoys most all activities that get him outside and lives a very outdoors oriented lifestyle. David currently works for the Department of Human Services in Child Welfare and believes strongly in the importance of public service. He graduated from Oregon State University in 2014 with a degree in Social Sciences and has completed MBA coursework at Southern Oregon University. A former college athlete, David coached track and football for several years once his athletic career was over. An admitted fly-fishing addict, David first learned the ropes from his grandfather, Chuck Fisher. Chuck loves to tell a story of when they had just got back from fishing at first light to late in the afternoon. After Chuck woke up from a nap he looked out his bedroom window and saw David in the front yard with a fly rod practicing his casting. In recent years, David got connected with some buddies who helped him take fly-fishing to the next level. There is a very tight knit community of fly-fishers in Southern Oregon that don't mind helping each other out. His favorite fish to catch on the fly are steelhead and he is fortunate enough to call some of the best steelhead rivers on the West Coast his home waters.
Ethan Smith
Instagram: @american.fisher
 
Fly fishing has been one of my passions ever since I was a little kid. My father introduced me and my brothers to fishing at a very young age every chance he got he'd take us out camping, fishing, and everything outdoors. Ever since I experienced the sensation of having a fish hooked on my line as a kid fishing has been my passion ever since. The perfect fly fishing scenario in my book would have to be the late summer nights under a bright moon chucking a big ole mouse fly trying to lure out big browns looking for a nighttime meal. Lucky for me I was raised in Midway, Utah and grew up only only a mile away from the river so getting out on the water and hunting some trout has always been a regular activity I've been able to do several times a week. i don't think i can decide on the most memorable fish I've ever caught (just too many) but i do think the most memorable fishing trip I've ever had would have to be trips going up and drifting the Green River with my father, that's where my love for fly fishing began.